Secret to Writing Compelling Family Stories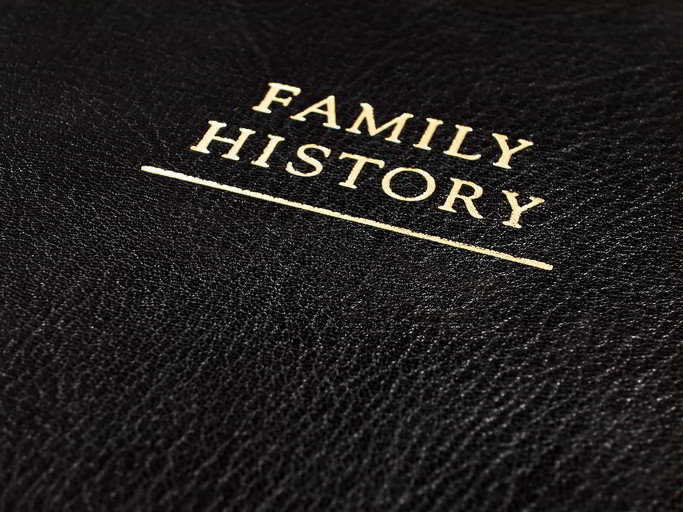 Every family has a story to tell and yours is no exception.  There are many good reasons to collect family stories, but preserving family legacy for relatives and their descendants is the reason why most people do it.  It is important to take action while the people with stories to tell are still around and are of sound mind.
Relatives may be reluctant to share their stories as they feel as though they never did anything exciting or noteworthy.  This attitude, while common, could not be further from the truth.  If you frame their story with historical facts and context, you can create an outcome that will be cherished by current and future family members.  I want to share a small snippet of my family story to demonstrate how a seemingly boring story can be transformed into something special.
Family Story Example: Grandpa George

My grandfather's life could be described in a nutshell as: George was born on the farm, he farmed his whole life until he died at age 86.  His life story sounds duller than dirt when you put it that way.  With a little creativity in how you structure the story, a few captured memories can be transformed into a compelling story.  Read on to see what I was able to do with this simple family narrative.
Life during the Great Depression
The Great Depression was a severe worldwide economic depression that started with the U.S. stock market crash of 1929 and extended through much of the 1930s.  Even if your family didn't feel the sting of losing their jobs during the economic downturn, it still left its mark on nearly everyone who lived through it.  Economic hard times taught tough lessons about coping with hardship, making do with less and being grateful for what little you had.
Life on the farm during the Depression continued much as it had before for George and his wife Rosella as they struggled to put food on the table for their seven children.  Protein was scarce in their diet, so Rosella would separate the geese from their freshly laid eggs.  In this way, she was able to entice the geese to lay extra eggs.  Then she forced chickens sit on the goose eggs and keep them warm by putting them in crates with a board on top, allowing them to hatch.  This was a shrewd way of making sure the family had a good supply of duck meat for the winter.  
One remembrance of my Dad (George's third child) is how he always looked with a sense of total bewilderment at how many toys a child has today.  He said when he was growing up, he was lucky to have one toy and had to share that one with his six brothers and sisters.  He was taught not to waste and developed the skill growing up to fix just about anything including a car, clothes washer, lawn mower, whatever it took to keep from replacing it.
Life on the Farm
It wasn't until about the late 1940s that electricity was run to the farmhouse.  Having been raised with electricity all my life, I find it fascinating to see how folks got along without it.  They relied on kerosene lamps for light once the sun went down.  They had a radio for entertainment that ran on batteries.  When the batteries ran down they recharged them with a windmill generator that was attached to the barn.  Of course this meant water had to be heated on the stove for bathing, considering the labor required to take a bath, this only happened once a week.
They also did not have phone service to their farmhouse.  My Dad recalls having to drive into town to use the telephone.  It seems that grandpa George spoke louder into the phone the farther the call was being made to.  Once when calling Chicago, George was talking so loud that his voice could be heard all the way outside in the car.  I guess you can't blame him for not understanding telephone technology.
Good Times
It was not all toil and sacrifice for George as it seems he was bit of a car guy back before it was cool.  Mind you his car was a 1917 Ford Model-T with wood spoke wheels and a top speed of about 30 miles per hour.  His coveted "iron horse" likely set him back about $300-$400 back in the day.
You can see from the picture the pride of ownership.  They were known to take the car out for a Sunday picnic and remove the car seats to sit on the grass in comfort as they ate.  George is the fellow in the hat sitting next to his wife.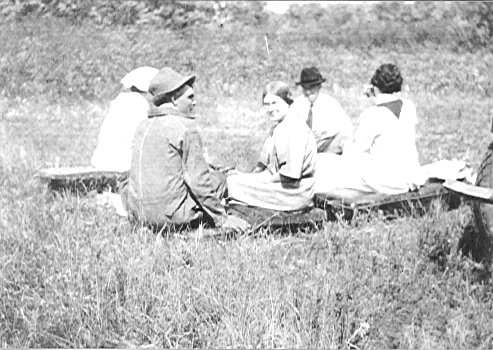 In the later years, the economics of wheat farming with its low commodity prices no longer allowed a farm of its size of to support a family.  In order to make a profit, much more acreage would be needed in the new age of agri-business.  Each of George's children left the farm to pursue a variety of career options.
Conclusion
The bottom line is that there is no reason for having dry or boring family stories when you can use historical events to add weight to everyday remembrances.  In the example of my grandpa George, I chose the Great Depression to anchor the story since it was a seminal event in George's life.  I could have just as easily chosen World War II to anchor the story. 
The choice of how you want to spin your family stories is completely up to you; just remember to keep to the facts since, after all, your story is a work of non-fiction.  My hope is to inspire people to get started interviewing relatives now, so their family stories can be captured and polished into something that future generations will cherish.


Read related articles: Sharing Your Family Story