Deciphering Death Certificate Causes of Death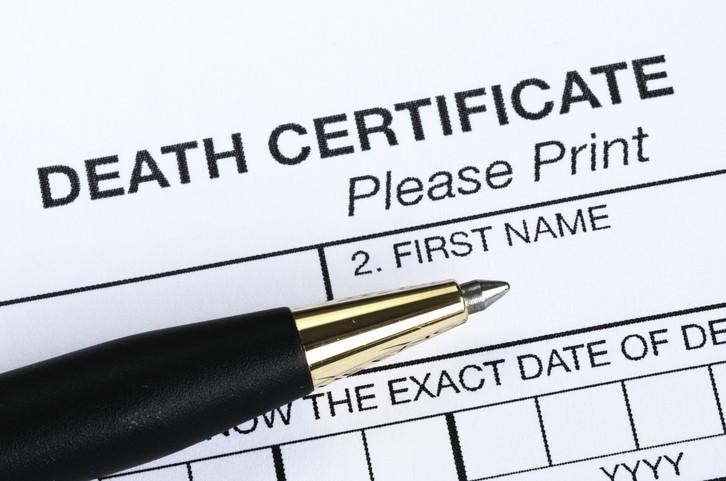 When doing genealogy research on an individual, some of the best pieces of information often comes from a death certificate.  Depending upon the date the certificate was issued, it could reveal a bunch of juicy details such as the full name of the deceased, age, marital status, cause of death, date and place of death.
This type of information is pure gold to a family researcher.  By combining a death certificate with other documents, such as an obituary, you can get a head start on filling in the missing pieces of an individual's life.
Cause of Death
The main question most people are concerned when reviewing a certificate of death is: what was  the individual's cause of death?.  This portion of the certificate is most often filled out by medical staff with notoriously hard to read handwriting. 

You may need to use a magnifying glass to enlarge the print to make it legible.  Thanks to the internet, most modern medical conditions can easily be looked up with a simple Google search.  For older documents, you may run into archaic medical terms that may require some research to decipher. 
There are many web resources devoted to the subject of archaic medical terms and diseases but I find the simplest way to find them is using Cyndi's List with categories Medical & Medicine » Diseases & Medical Terms. http://www.cyndislist.com/medical/diseases/
Even if you are unable to decipher the handwriting, all is not lost.  You can refer to codes developed to classify and standardize the process of defining a cause of death.
International Classification of Diseases (ICD)
There should be one or more ICD code included in the medical section of the certificate.  The ICD is a standard diagnostic tool used by physicians to determine a cause of death when filling out a death certificate.

The ICD Index was first written in 1893 and has been revised 10 times with the last revision in 1990. The key for a death certificate reviewer is to use the version of ICD in use at the time when looking up the codes.  The reason is that the ICD changed quite a bit with each revision, so using the incorrect version can leave you with the wrong cause of death.  All 10 revisions of the ICD are available at the Wolfbane Cybernetic website.

Death Certificate Example
Analyzing the certificate of death below, we see hand written on line 18 what appears to be:
Immediate Cause: Carcinoma of Bladder      ICD:1810
Due to: Metastasis

Metastasis is defined as the development of secondary malignant growths at a distance from a primary site of cancer.  It is clear that this person died of bladder cancer.
When we consult the ICD file from 1955 (which would have been in effect in 1959) it says:
181     Malignant neoplasm of bladder and other urinary organs
181.0  Bladder 
I am not a doctor, but it is quite clear that this person died from bladder cancer complicated by diabetes and arteriosclerosis or buildup of plaque on artery walls constricting blood flow to organs and tissues.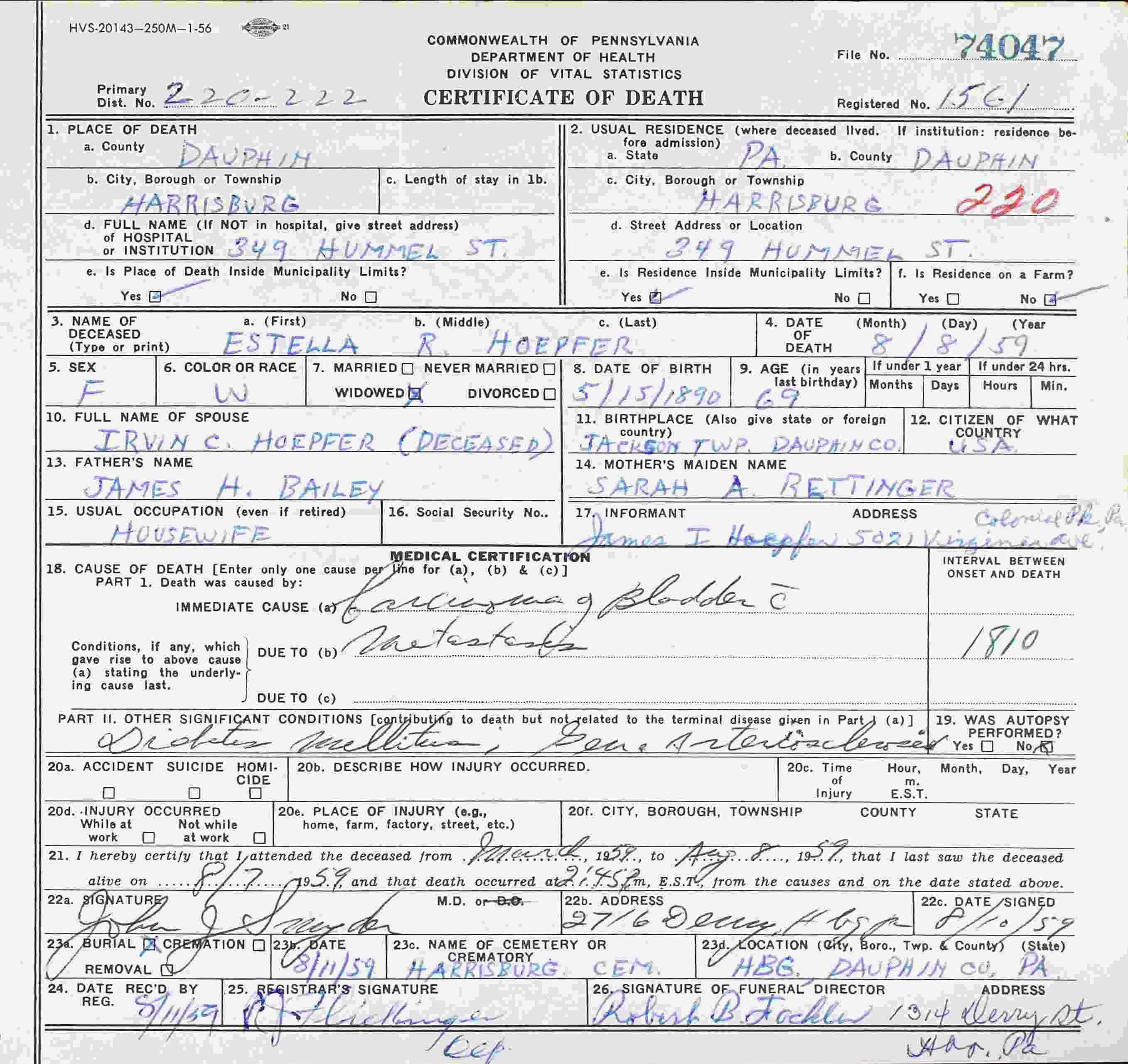 Sometimes a bit of detective work is required to put all the clues together.  This diagnosis was quite clear, but some will require some research and analysis.  The internet provides a bountiful resource for researching medical conditions.

If you need help in ordering copies of death certificates or other vital records, you may want to consult my article titled Requesting Vital Records.


Read related articles: Tricks of the Trade