Imagine its 1912 and you just bought a first-class ticket for the maiden voyage of the Titanic, advertised as the grandest and most famous luxury ocean liner ever built, not to mention unsinkable.
You anticipate a relaxing vacation filled with drinking, fine dining, games and live music while hobnobbing with some of the richest people on the planet.  You will enjoy luxurious cabins equipped with waitstaff, maids, and attendants available to cater to your every need.  What could go wrong?
At 11:40 pm on the moonless night of April 14, 1912, lookouts spied a large black shape in the distance and rang the warning bell.  With only seconds to respond, the ship's engines were ordered stopped and put in reverse.  But it was too late to miss the iceberg and with a terrific crash the hull plates covering five of its sixteen watertight compartments were ripped open allowing sea water to rush in.

Over the course of the next 2 hours and 40 minutes the ship takes on water, creaks and groans and breaks in half before sinking to the bottom of the sea.  Lifeboats only had capacity to carry about a third of the ship's passengers and more than 1,500 of the estimated 2,224 total passengers and crew perished, making it one of modern history's deadliest peacetime commercial marine disasters.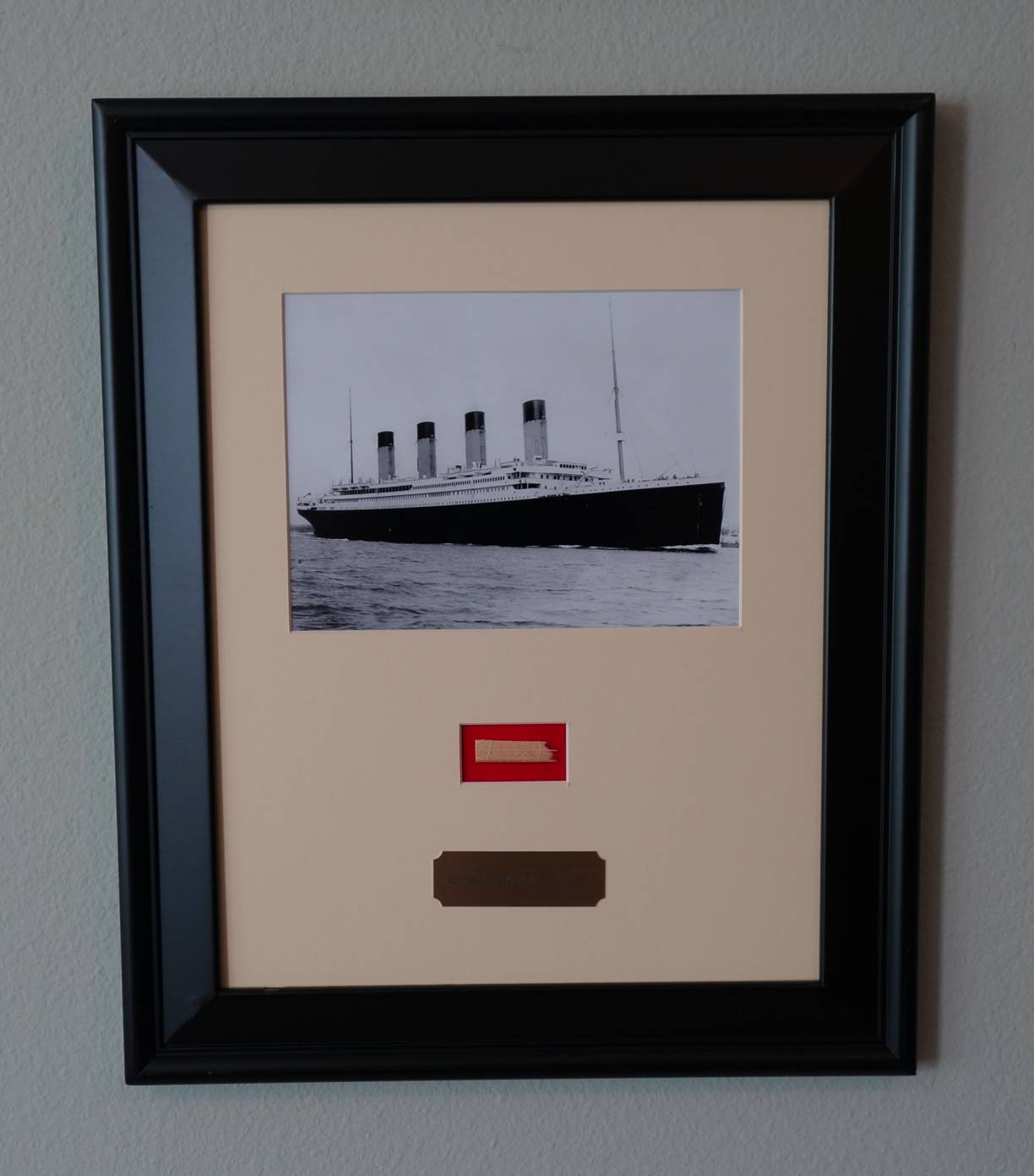 It is mind blowing to think of owning an authentic piece of the famous Titanic ship that sunk in 1912 and is currently resting on the ocean floor two miles below the surface of the North Atlantic. Most artifacts from the Titanic are priceless museum pieces or hidden away in the private collections of rich collectors.
Now, you can own your own authentic artifact from the Titanic mounted in a beautiful framed display piece.  Quantities of this product are limited to availability of recovered deck wood.  If you are serious about owning a piece of the Titanic, you better order now!
The crew of recovery ship, Minia, retrieved wood planks from the floating debris field in the wake of the ship's sinking.  The recovered Titanic wood was fashioned into a liquor cabinet by ship carpenter, William Parker, and was held in private collections for decades.  A red stained pine shelf was removed from the cabinet and shaved into small pieces for sale to the public.
Authenticity of the wood sliver is backed by Titanic expert Kevin Saucier, President & Curator of Gem Mint, Inc.  A signed certificate of authenticity is included with every framed wreck wood display.
You no longer need to be a millionaire collector to own an authentic artifact from the Titanic. The purchase of this 11"x14" framed Titanic memorabilia will elevate you into an exclusive club of collectors owning precious Titanic relics. Don't delay in ordering your piece of Titanic history.


Read related articles: Product Reviews